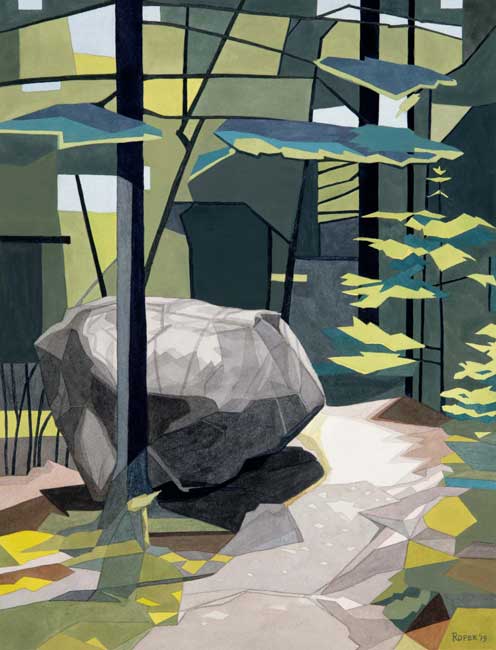 I like both abstraction and realism in art, and I work to combine the two art forms. The outline of my subject matter leans towards realism, but the shapes of color inside the subject, are abstract. I use color and line to meld the two art forms together.
Half the time I spend creating a painting is spent on the drawing. I look for interesting shapes to give feeling to the painting. I then work with the color to either solidify the realism or give rise to more abstraction, depending on my mood.
After I've defined a drawing, I find the reality of my drawing fades away, and I'm left painting abstract shapes of color. I try to not impose my intellect on my paintings, but I allow my feelings and emotions to dictate the line and color. I call it Abstract Realism.
Publications
Paintings of Maine – A New Collection; by Carl Little; 2006
The Art of Acadia; by David Little and Carl Little; 2016
Shows
Shaw Gallery; Open Show for Local Artists; Northeast Harbor, Maine; 2019
Able's Lobster Pound, Mount Desert, 2018 and 2019
Bar Harbor Savings & Loan, One-woman show, 2017
Redfield Artisans' Gallery, final gallery showing of all previous artists, 2017
Mount Desert Land & Garden Preserve, fundraising invitational show, 2013, 2015, 2017
Salty Dog Gallery, Crow & Other Shows, 2012, 2013, 2014, 2015, 2016, 2017
Jesup Memorial Library, One-woman show, Bar Harbor, ME 2011
Courthouse Gallery; Painting Mount Desert Island, May – June 2010
Morning Glory Bakery, One-woman show, Bar Harbor, ME Nov – Dec 2008
Ellsworth Public Library, One-woman show Visions of Maine; Ellsworth, ME Feb. 2007
Wine Cellar Art Gallery, Maine Artists; Ellsworth, ME; 2006, 2016
Courthouse Gallery; Inaugural Exhibition; Ellsworth Revisited, Ellsworth, ME; 2006
Portland Parks & Recreation Dept.; One-woman Show; Portland, Maine; 2005
A Lone Moose Gallery; Something to Crow About; Bar Harbor, Maine; 2004
Blum Gallery, College of the Atlantic; Juried Portrait Show; Bar Harbor, Maine; 2004
The Grand; One-woman Show; Ellsworth, Maine; 2004
Thorndike Library, College of the Atlantic; One-woman Show, The Color of Line; Bar Harbor, Maine; 2003
Wine Cellar Gallery; Maine Artists; Ellsworth, Maine; 2002
MDI Biological Laboratory; Art & Wine Show; Salisbury Cove, Maine; 2001